Participating in sports can bring exhilarating victories and unforeseen risks, including potential injuries to the teeth and mouth. At our Thousand Oaks-based dental clinic, Lombard Dental Studio, we recognize the critical importance of safeguarding your smile while engaging in high-impact athletic activities.
A well-fitted mouthguard for sports can prevent dental trauma, saving not only teeth but often significant time and expense in restorative care. We consider ourselves more than mere dentists; we see ourselves as partners in maintaining and protecting your smile. Our mouthguard sports services assure you the perfect balance of protection and comfort, catering to athletes across a broad range of sports.
The Battle for Safety: Why Choose a Dental Athletic Mouthguard?
Participation in sports can sometimes lead to unpredictable injuries, and your mouth is no exception. The American Dental Association (ADA) recommends wearing a properly fitted mouthguard in sporting or recreational activities, particularly those with a significant risk of dental trauma or orofacial injury.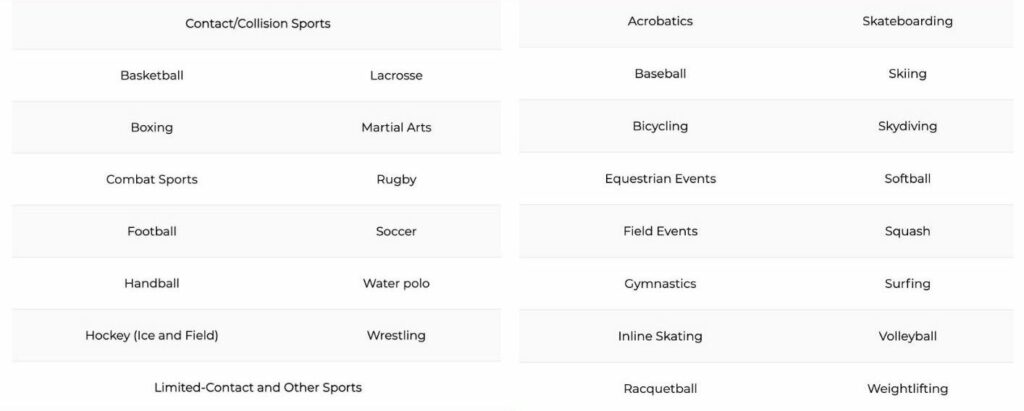 With this in mind, the athletic dental guard, designed with high-grade materials, should be an integral piece of your sports gear. More than just a protector, a sport mouthguard serves as essential gear that gives you the confidence to play without fear. By choosing an athletic oral protector, you are opting for an effective preventive measure against mouth infections and injuries.
Athletes with Braces: Specialized Solutions for Unique Challenges
We understand the unique challenges faced by athletes with braces. To cater to this need, we offer specialized sports mouthguard for braces. These braces-compatible athletic protectors are designed to give you a secure and snug fit while ensuring your teeth, lips, and cheeks are shielded against high-impact activities. This orthodontic athletic guard is a combat-ready, thin, clear protector made to be worn with braces, offering a full coverage solution that doesn't compromise on comfort or safety.
Choosing Your Mouthguard for Sports: A Battle Worth Winning
When selecting an athletic dental protector, it's important to understand your options. While ready-made mouthguards are economical and offer good protection, a custom athletic mouthguard from Lombard Dental Studio offers superior fit and protection. These oral guards are tailored to your mouth for an excellent fit, letting you focus on the game while we safeguard your smile.
Perfect Fit: Elevating Your Athletic Performance
At our Thousand Oaks dental clinic, we realize that each athlete has unique needs. Our personalized consultation helps you choose the ideal mouthguard for sports that provides the right fit and comfort.
With a perfectly fitted mouthguard, your oxygen flow is not hindered, letting you breathe easily and concentrate on your performance. This attention to detail ensures that our mouthguards are not just about protection but also about enhancing your sports performance.
The Science Behind Our Mouthguards
Our commitment to delivering top-quality sport-oriented dental guards is rooted in our understanding of the science behind mouthguard fabrication. Each mouthguard is crafted using cutting-edge technology and superior materials, assuring a snug fit, and optimal protection.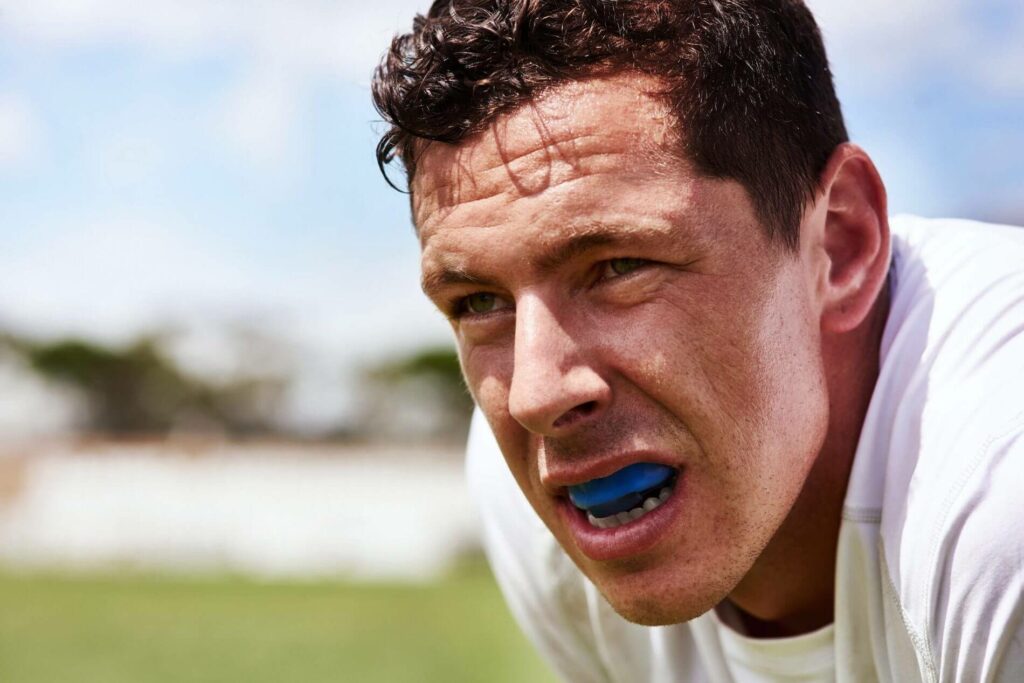 FAQs
Can I use a sports mouthguard at night?
While some people use athletic mouthguards as night guards, it's not typically recommended. Night guards are designed to prevent grinding and clenching, and using a sport-specific protector instead might not serve the same purpose effectively.
Can I wear a sports mouthguard with braces?
Yes, you can, and you should! A mouthguard not only protects your teeth but also prevents your lips and cheeks from being cut by the braces during impact. Our sports mouthguard braces are custom-designed to fit your unique dental structure, providing the utmost protection and comfort during play.
How to clean a sports mouthguard?
Cleaning a mouth protector is simple. Maintain the hygiene of your athletic dental shield by careful cleaning it with a soft brush and mild soap or rinsing it in a specialized mouthguard cleaning solution. Remember to rinse it before and after each use and store it in a ventilated case.
What should I wear for protection in battle sports?
For the intense competition and physical demands of battle sports, we recommend the battle sports mouthguard. It's crafted with high-grade materials to withstand impact, providing a perfect balance of protection and comfort.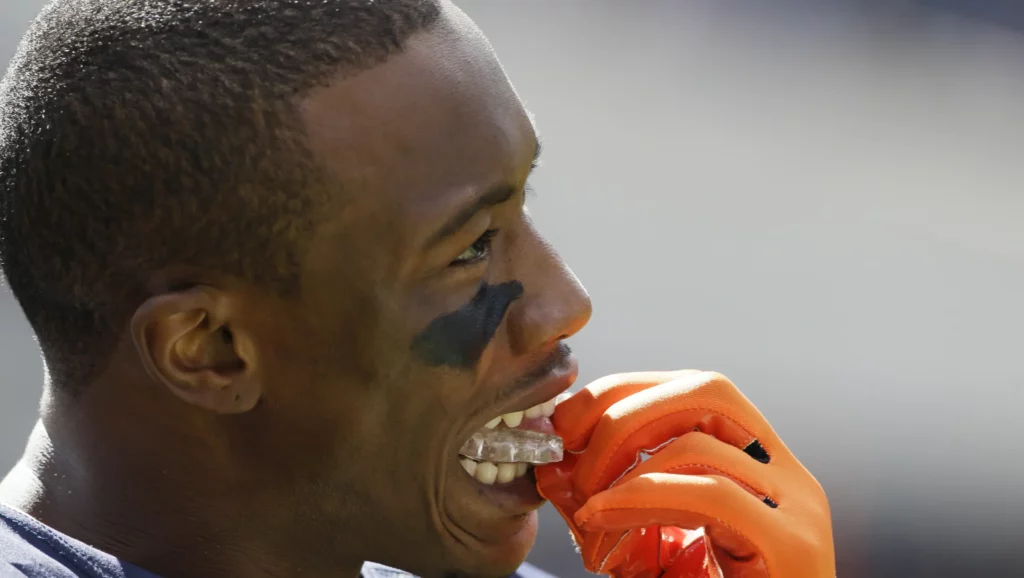 Our Commitment at Lombard Dental Studio
At our practice, we are committed to more than just offering the best sports mouthguard. Our comprehensive oral care services are guided by a focus on the science of dental protection, ensuring each patient receives a custom-made mouthguard that fits perfectly, offers optimal oxygen flow, and acts as a lip protector. We go beyond providing the best mouthguard for sports, focusing on a personalized approach that ensures optimal protection and comfort for all athletes.
We believe that the best protection comes from a personalized approach. As such, our mouthguards can be equipped with a strap for added security during your athletic activities. These features, combined with our commitment to using top-notch materials and providing clear instructions, ensure you get an athletic dental guard of unmatched quality.
Trust Lombard Dental Studio Your Mouth Protective Needs
When it comes to your oral safety during sports activities, trust in the expertise of Dr. Lebovich at Lombard Dental Studio. Our custom sport-specific dental guards are crafted using superior materials, ensuring a perfect fit. With our specialized knowledge in athletic mouthguards, we assure you of total teeth protection.
Whether you're involved in high-impact sports or leisurely recreational activities, we're here to keep your smile safe. Get in touch with us at your earliest convenience to discover how our tailor-made mouthguards for sports can contribute to your athletic performance and safety.