Are you considering all-on-8 dental implants for your missing teeth? If so, you're likely looking for an option that is both durable and aesthetically pleasing. At Lombard Dental Studio, we are experts in this cutting-edge all-on-8 implant procedure, tailored to not only rejuvenate your smile but also substantially enhance your quality of life.
Dr. Vadim Lebovich leads our oral care team with a wealth of experience and specialized education in the field of implantology. Utilizing advanced methodologies, he ensures that each implant is custom-fitted to maximize both its utility and visual appeal.
Beyond the immediate treatment, Dr. Lebovich's commitment to high-quality care extends to our comprehensive aftercare services. These are designed to ensure that your all-on-8 fixtures continue to operate flawlessly and maintain their aesthetic integrity for the long haul.
Understanding All On Eight Dental Implants Solutions
Curious about the specifics of all on 8 implants? This innovative technique involves the surgical placement of just eight screws into your jawbone, which then support a full arch of prosthetic teeth. Unlike conventional implant strategies, which typically require an individual anchor for each replacement tooth, the all-on-8 approach minimizes surgical invasiveness by using fewer screws.
By embedding these anchors securely into the jawbone, we achieve unmatched stability. This stable base is capable of withstanding daily tasks such as eating and speaking, all while preserving a natural-looking aesthetic.
Deciding to proceed with an all-on-8 implant procedure at Lombard Dental Studio affords quicker healing and a more streamlined treatment schedule. Fewer surgical sites contribute to an expedited recovery and reduced postoperative discomfort.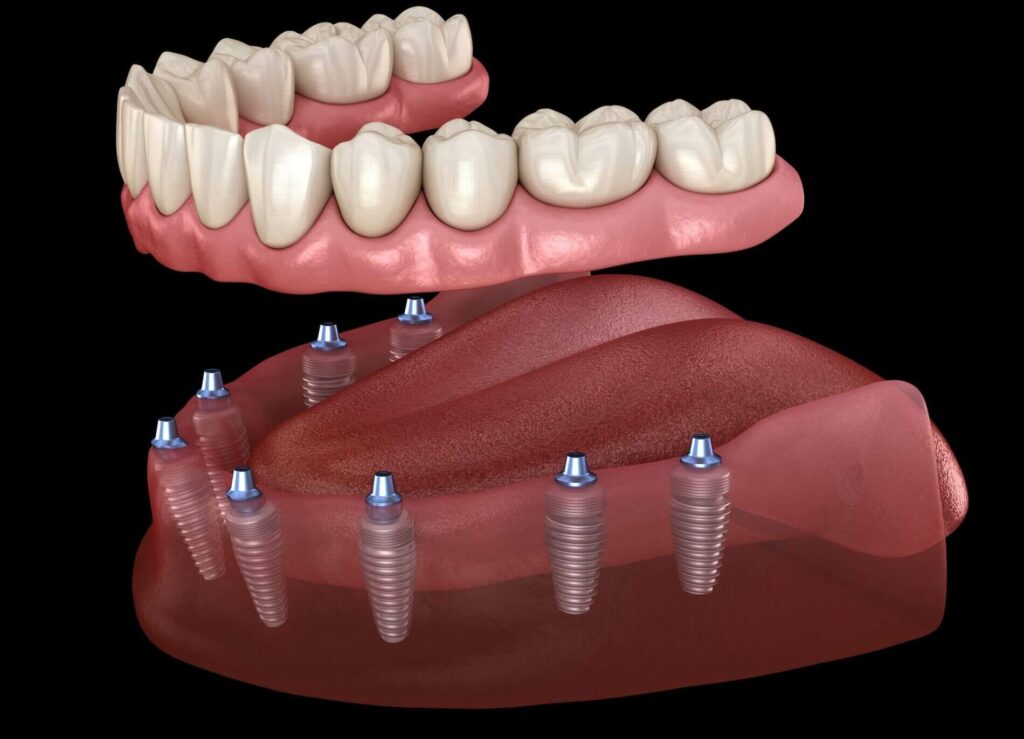 All On 8 Dental Implants Pros
Selecting all-on-8 replacements at our oral care center presents several advantages:
Superior Durability: These systems outperform conventional implants and dentures, providing enhanced stability that significantly improves your daily life.
Aesthetically Pleasing Results: All-on-8 setups contribute to an impressive, natural-appearing smile, which often leads to increased self-assurance and transformative social interactions.
Enhanced Speech Clarity: Research shows that these types of fixtures can mitigate speech issues often linked with other forms of tooth replacement, thus enabling more transparent communication in daily interactions.
Improved Eating Functionality: The all-on-8 systems significantly improve your ability to chew and enjoy food.
Doctor Vadim Lebovich: Your Trusted Implant Dentist in Thousand Oaks
When selecting a specialist for your restoration needs, Dr. Vadim Lebovich stands as an unparalleled expert. From his early academic years, instructing classmates in oral care, to his specialized training in implantology, his relentless pursuit of excellence is unmatched.
Dr. Lebovich expands his repertoire beyond implant interventions, staying updated with the latest breakthroughs in oral healthcare. From digital procedures to cosmetic solutions, he provides a versatile range of services to address your individual needs.
By electing Lombard Dental Studio for your all-on-8 systems, you entrust your oral health to a committed specialist, wholly focused on your long-term wellness and satisfaction. We take great pride in the positive all-on-8 dental implants reviews from our satisfied patients, which highlight the expertise of our oral care team.
Financing Options and Affordable All-On-8 Dental Implants Price
Concerned about your budget? We offer all-on-8 service at a competitive price, with financing options available. For an accurate estimate of all on 8 dental implants cost, we recommend contacting our office for a personalized consultation.
Our commitment to your sustained health doesn't end in the operating room; we offer comprehensive aftercare to ensure your implants remain in optimal condition, serving you effectively for years to come.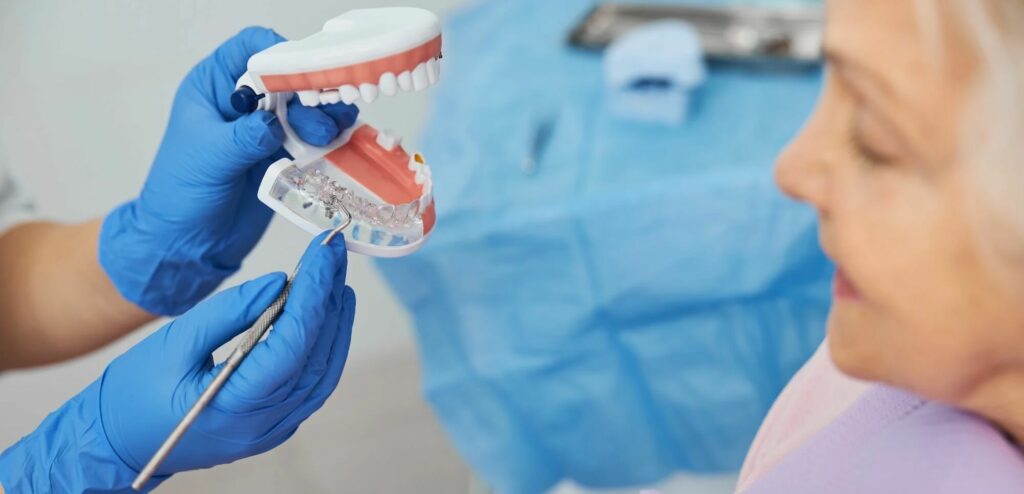 Frequently Asked Questions (FAQ)
What are all on 8 dental implants?
All-on-8 implants utilize a system of eight strategically placed titanium screws in the jawbone to secure an entire arch of artificial teeth. This cutting-edge method optimizes both the procedure and the healing process, generally leading to a faster recovery compared to more conventional implant techniques.
How much for all on 8 dental implants?
The investment required for all-on-8 fixtures will differ based on multiple considerations such as geographic location, the expertise of the dentist, and available payment options. For a personalized pricing estimate, we encourage you to reach out to our clinic.
How much time is needed for healing post-procedure?
Recovery durations can differ from patient to patient. Nevertheless, the all-on-8 system is engineered to minimize surgical sites, often resulting in a more expedited healing timeframe when compared to other tooth-replacement options.
Are all-on-8 implants designed for long-term use?
Yes, all-on-8 replacements are constructed to serve you over the long haul. To ensure the lasting quality of your implants, it is crucial to attend periodic oral assessments and adhere to recommended oral care practices.